Friday - 5.3.2013
Howdy lover lips! I'm in one of those moods today, maybe it's the coffee (not the recycled stuff... see my
Facebook
page for explanation), maybe it's because I actually got some sleep, maybe it's because yesterday was a not so great day so today is going to be better... Either way I'm in a happy mood, in fact, to take it a step further I'm in a silly mood! So my picks this week are reflecting my mood, being they are all over the place with no real rhyme or reason.
For my wrap up this week I want to share a moment that made me spill over with happiness. On Thursday night I got to go on a spur of the moment date night with my hubby. It was one of those weird days where he text me early in the day that he had to work late, but didn't know how late yet. So I decided not to make dinner, you know just feed the kids cheat food like corn dogs. I'd just eat cheese, chocolate and wine. Well around 6 pm, just as I'm feeding the kids, he walks in the door, of course! Monday night he worked til 4 am, missing the awesome lasagna dinner I made. His job is so hard to tell what time "working late" is til, so some nights it's difficult to know if I should make a full blown meal.
Anyway, were talking and laughing together while he's working out in the garage and he say's "Your mom has been living with us for 2 months now, so why are we not taking advantage of this? Let's go get sushi!" Um YES... Oooooh mommy! The kids were all in bed by the time we left and it's not like she was leaving, so really she had no choice! This is why I love my hubby. (and my mom for that matter) You didn't make dinner, oh let me take you out to dinner then. Yep I'm spoiled.
I have completely overwhelmed myself with
giveaway
s
and
blogger opps
, I can't even keep up with listing them all! Make sure you subscribe to the right newsfeed to receive weekly updates, sign up for 1 or all 3: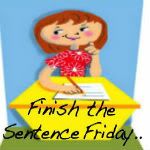 If I were stuck on an island, I would like to have...
I would normally be a smart alec and say rum. The intelligent side of me would say a lighter or pocket knife. But I watch that show on Discovery - Naked Castaway the other day and now I would say knowledge. If I was stuck on an island I'd be happy to have the "know how" to survive. This guy only had cameras! No clothes, food, water or any thing else but the knowledge of how to survive.
You can't drink salt water, so what do you do? How do you get drinking water? Islands don't usually have restaurants or pizza delivery (unless your it's a Hawaiian island), so what do you eat? No lighter, how do you make fire? You get the point? My second vote would still be rum, at least while I'm attempting to figure out how to survive, I can be really delirious!
---
Brave...
It came to me right away, yesterday I sat in amazement of my dear friend Kim from
Being Blissfully Blind
. She was born early, a twin, weighing only a pound. Her twin didn't make it and the drops the doctors put in her eyes made her blind. But she wants no one's sympathy. She is so strong, so brave. I have known her since I was about 11 or so and she has always taken on the world with a grin and determination. Her disability doesn't slow her down.
So when we were hanging out one day and she said she wanted to start blogging too, you can imagine how thrilled I was to set her up. Here she is again looking at life with no fear. She will be writing about how to live independently as a blind person. Amazing!
This post caught my eye because the school year is coming to it's end and I always like to get my son's teachers a little something for putting up with him all year. Her post gave me a great idea and quite a chuckle! I absolutely love how she calls Pinterest, Pintercrack! And I just died when she compares Starbucks gift card for teacher to cigarettes in prison, genius!
---
---
Now I'm not much of a book reader unless it's the Bible or some kind of make me a better person quick book AKA self help books! So even though this post is about a book she's excited to read, I loved her excitement and hysterical expectations of the book. Just read the post and you'll see what I mean!
---
I am addicted to Pintercrack (Yeah I'm using that now!) So where I read this post, my first though was "Why didn't I think of that?" No pun intended! Ok maybe a little bit. But seriously there are some great ideas on there and this summer I'm going to challenge myself to try some of them! Thanks for sharing your favorite pins!
---
My wonderful sponsors this week are:
Don't forget to VOTE for me on PicketFenceBlogs!
---