Friday - 2.8.13
Well not much has changed, still miserable, pregnant, exhausted, blah, blah, blah... I feel like a broken record. Spent most of the week in bed and lost most of my motivation to do anything, even blog. I'm really hoping it will come back once i have my body back. Got a huge personal reveal that will only be shown on my social media... give you a clue its a follow up to the very last post!
Ok so down to the basics, lots
Giveaway
's going on right now, go check them out! And as usual, if you want to co-host Tuesday's Tea Party here's the
sign-up
form.
Thats it, happy Friday!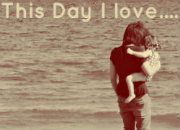 This Day I Love
this blog! Such a cute I idea, she picks something each day to remember her two little girls by. I just adore the way she is recording all the fun little memeries, how special.
by
My life, as Mommy & Wife
When your a mom there is 99.9% chance you will experience a diaper explosion at some point in your babies life. This mama has one for the books! To funny and only reminds me that parenthood is relentless, so hold on tight, keep wipes near by and enjoy the ride!
---
My wonderful sponsors this week are: