Friday - 8.9.2013
Hooray I'm back! We are settling into the new house, even if there are still a million things that need to be put away! I have so many new things coming for you guys, I can't wait to share! I'm not going to spill the beans just yet on what they are, but one is going to be a monthly contest that anticipate to be fun and spread like wild fire!
I just finished designing a blog for a friend, she wanted a place to write, but also to sell her home made candles. I built a shopping cart feature right on her blog! Go check her out
www.MellyCreations.com
!
Ok now that I'm back in the swing I'll be signing up to promote all kinds of
giveaway
s
and
blogger opps
, so be sure to check out what I've got going on! Make sure you subscribe to the right newsfeed to receive weekly updates, sign up for 1 or all 3:
Remember you can receive a complimentary vacation just for checking out my
business opportunity
! And as usual, my blogging buddies should go link up over on
Tuesday's Tea Party
or even better
sign-up
to co-host!
I joined up with
Dawn's Disaster
again for FTSF, check out how I finished the sentence. Then get over there and link up yourself! This week's sentence...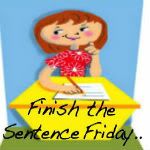 I have a bad habit of...
biting my nails! No thought even had to go into this one! I have been biting my nails since I was a young girl. Sad to say, I think my older daughter will have the same problem, she's always got here hands in her mouth. It's a nervous habit I just can't stop.
I HAVE to keep acrylics on to at least have nice looking hands, other wise I have bloody stumps. I've tried everything! Nothing works, I even bite the acrylic! Good thing I learned how to do the acrylics myself! I'm not to shabby at painting them either!
---
And I linked up with
Lisa-Jo Barker
for 5 Minute Friday. Again for this one she gives you a topic and you have to write for 5 minutes flat – no editing, no over thinking, no backtracking. So this weeks topic is...
Lonely...
"I remember a time when I use to feel lonely. It was a time in my life when I was doing things my way and thought it would bring my happiness. Funny how that happens. I had people around me all the time but never felt I had a true and trustful connection with any of them. Those were dark times.
Now though, I have a loving husband, I know I can trust. I have reconnected with my mom in a way I never thought possible. I even feel closer to my children. I open my eyes to people that never gave up on me and realized what the word friendship really means. I started living my live according to the standards held out in the Bible and drew closer to God than never before. Now I never feel lonely.
I haven't had a lot of time to catch up on my reading, but I did stumble upon this great post on Pinterest, so I thought I would share. I love this list she compiled! I'm working on 1, 10, 11 and 23 because I would rather enjoy my children, than maintain them. In fact some of my new blog features to come will be based on this goal of mine. I'm going to start using 12 and 25 as a way to, well, calm down. And I desperately need to remember 16 and 19 more often!
---
Been Featured? Show it off!
Grab the button below!
My wonderful sponsors this week are:
Don't forget to VOTE for me on PicketFenceBlogs!
---
Like it? Love it? Share it with every!
(ENTER PINTEREST HTML) (ENTER TWITTER HTML)