Friday - 1.11.13
This week has been slightly dramatic for me. Pregnancy and bed rest are starting to take there toll on me. Being in constant pain had me in tears in the middle of Costco, sobbing to my mom. My kids think now is a good time to not listen to me at all, as if they listened before. Oh well, wa wa, poor me, boo hoo. I'm over it. Let's move on to more exciting things.
As I mentioned last week I started a new
Giveaway
page, you can subscribe to only my giveaways or both, my normal blog feed and my giveaways, however you want. I just wanted to give people the option, seeing as some people just want to read my blog and not be flooded with the other stuff. This page will have blogger opps on it as well so if your looking for giveaways to promote they will be there. I am making it a goal to be a part of 10 giveaways a month.
Got a redesign starting for a close blogging buddy of mine, can't wait to do the final reveal on that! If you need anything designed for your blog, check out my design site
Bombshells Designs
. And if you follow my other, mother blog it has now gone from just nails to all beauty, so now its
Simply Mad About Beauty.
And last but not least Tuesday's Tea Party now has a steady line up for co-host and people linking up. Let's keep it up! If you would like to
sign-up
to co-host the blog hop, it's super easy! The ad space giveaway seems to be a huge hit, so I'll keep that going too!
So now on with the show....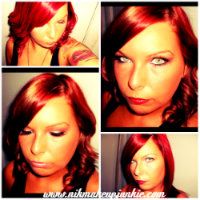 I have always been a beauty enthusiast, even if having kids and being pregnant made me lazy about it! That's why I decided to widen out from just nails to all beauty. In honor of that change I decided to pick one of my fellow enthusiasts as my favorite blog this week. This is Nikki at
Confessions of a Makeup Addict
. First, I love her blog name! Second, she has some great beauty product giveaways. And lastly, she's just so stinkin stylish!
The Exhausting Paradigm of Pregnancy and Laziness
by
Chic Bananas
I just found this writer on BlogHer but she hit the nail on the head with how I feel right now. She's a little farther along then me and may have already had the baby, but I couldn't explain how I'm feeling in better words. I hate that pregnancy makes me feel disabled, when in my head I'm perfectly capable. Glad to know I'm not the only one!
---
My wonderful sponsors this week are: