Friday - 3.8.2013
Feels like it's been forever since I did a Friday's Fave! For any of you newbies this is where I recap the week, give a shout out to my favorite blog and blog post of the week and remind you of all the stuff I got going on. In addition I just found out about this new blog hop with a great theme called "Finish the Sentence Friday" aka FTSF, where the host give you the start to a sentence and you have to finish it in a blog post, then go link up. So that will be included as well.
So what's new we me this week, a crazy turn of events over at my parents house, that's what. I'll post more about it later but the gist of it is, my parents house flooded due to a pipe burst. They were talking about selling the house but postponing because it needed some work. Now with the flooding, the house will be completely remodeled all thanks to the insurance company. My parents had the brilliant idea that my hubby and I should buy the house from them when it's finished! I couldn't be more thrilled, it's the house I grew up in since I was 5. Now were in a mad dash though to figure out how well come up with a down payment, how to get a loan and what programs there are out there for first time buyers. It's all very exciting and yet emotional at the same time. I will do an official post with pictures once the house is gutted and I'll update along the way to making my parents home, our home!
In other news I'm still pregnant, still miserable but trying to make the best of it with only a few weeks left. Then there's the weekly stuff, lots of
giveaways
to check out and if you haven't already go link up over on
Tuesday's Tea Party
or even better
sign-up
to co-host! So let the FTSF begin!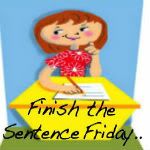 I tried to cook lasagna roll ups for my in-laws one time. Oh my was not so easy! Turns out lasagna noodles are finicky, they have to be cooked one at a time practically. Well needless to say I did not know that till, at my mom-in-laws suggestion, I was running the clump of stuck together lasagna noodles under cold water trying to get them to separate! I was able to save most of the or at least parts of them and put slightly mangled looking lasagna roll-ups together. Dinner was still a success! Here's the
recipe
if you would like to take a stab at these tasty little morsels!
Living in the Right Turn Lane
is an adventurer like me. She is a mother of three, like I am soon to be. Life has thrown her some twist and turns, but she's dealing. I admire her deep writing style and courage, as she embarks on a path of uncertainty.
Now give me one good reason I wouldn't love a post with a title like this, I am Alice after all! I just thought it was so dang cute that everyone at her work dressed up like characters from Alice in Wonderland! Seriously I just want to work there for the awesome random costume days they have.





---
My wonderful sponsors this week are:
Don't forget to VOTE for me on PicketFenceBlogs!