Friday - 3.22.2013
Wow what a wild ride the last few weeks have been. Witnessed a birth (not my own, darnit), had my crazy wonderland baby shower (pictures to come) and had a taste of what it will be like with two little ones in the house, while I babysat my 2 year old neice for three days.
I also designed 2 blogs this week, where I got the time for that, don't ask! They were for two totally different taste and ironically for two new bloggers. One for Jolene at
Wow Then and Now
and one for Kim at
Being Blissfully Blind
. Go check them out, lots of little details and I'm just so proud of how they turned out. And of course if your interested in making over your blog, check out my design site
Bombshells Designs
!
So you may have noticed but probably not, that my menu has changed a little bit. I'm gearing up for more reviews and giveaways as I am starting to be contacted more and more for this kind of stuff. I'm also re-starting up a business I was doing before with Coastal Vacations, if you want to see what it's all about see the
Make Money
page. I'm promoting a ton of
giveaways
right now and have blogger opps coming out my ying/yang! If you haven't already, go link up over on
Tuesday's Tea Party
or even better
sign-up
to co-host!
Remember I told you about FTSF? Ok if not it's this great little blog hop that gives you a start of a sentence and then you finish it by writing your own story. Want to in the fun? Head over to
Dawn's Desaster
and link up! This week's sentence...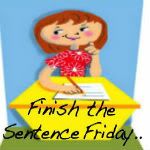 One time when I was bored out of my mind, I was probably a kid. Honestly I wish I could remember the last time I was bored out of my mind. As I mother I think I forgot what it's like to be bored. Now a days if there is truly nothing for me to do, which lets face it is never, I usually catch a nap or catch up on blogging. I can tell you this though if I'm left alone for to long, I usually chop of all my hair, dye it some funky color, go get pampered or find a friend to go out with. But bored, I can't say I've been bored out of my mind since I was a kid and in which case would always lead to trouble!

It's Me Again... Pamela
is a cute little blog I have been following for a while. She has such a simple way of about her that I just love reading her stuff. I particularly love her posts about what she loves about her hubby and I think I might barrow the idea. Go check her out you will be glad you did!
I love this post. I can completely relate. After being a teenage mom, divorced twice and being widowed, I had to learn to let go of perfection. Jenn perfectly sums up how I have been trying to live me life, it's just perfectly okay if everything isn't perfect! Kuddos Jenn, if you figured out this much you know your on the path to a much ahppier life. Glad I read this post and look forward to more of them from you.
Been Featured? Show it off!
Grab the button below!
---
My wonderful sponsors this week are:
Don't forget to VOTE for me on PicketFenceBlogs!